Summer Sale - Our biggest sale continued!
Regular price
$185.00 AUD
Regular price
$185.00 AUD
Sale price
$185.00 AUD
Unit price
per
20% off Summer Sale
Sold out
Sustainable and minimal cardboard bedhead, made with the same high-quality recycled cardboard as our bed.
Easy No Tool Setup
Super Strong - Can Withstand All Bedroom Activities
Perfectly Matches Your Yona Bed
30 Night Free Trial
5 Year Warranty
Most Environmentally Friendly Bedhead in Australia
Easy No Tool Setup

Our Yona bedheads can be setup in 5-15 minutes (depending on the size).

They come flat packed and don't require any tools or skills to put together. They can also be packed away easily for storage or moving.
Specs

Material
100% corrugated cardboard (a combination of recycled cardboard and original fibres from sustainable forestry)

100% recyclable

Dimensions (Height x Width x Depth)
Single: 107 x 122 x 13 cm
King Single: 107 x 146 x 13 cm Double: 107 x 171 x 13 cm
Queen: 107 x 171 x 13 cm
King: 107 x 195 x 13 cm
Super King: 107 x 220 x 13 cm
Long Single: 107 x 122 x 13cm

Box dimensions & weight (shipped):
Single: size to - 107 x 37 x 20 cm | 6.1kg
King Single: 107 x 37 x 20 cm | 7.1kg
Double: 107 x 37 x 20 cm | 8.1kg
Queen: 107 x 37 x 20 cm | 8.1kg
King: 107 x 37 x 20 cm | 9.1kg
Super King: 107 x 37 x 20 cm | 10.1kg
Long Single: 107 x 37 x 20 cm | 6.1kg
Free & Fast Shipping

We offer free & fast shipping to 99% of Australia addresses.
30 Night Guarantee

We're so confident you'll love your Yona bedhead that we're happy for you to make up your mind over 30 nights.
View full details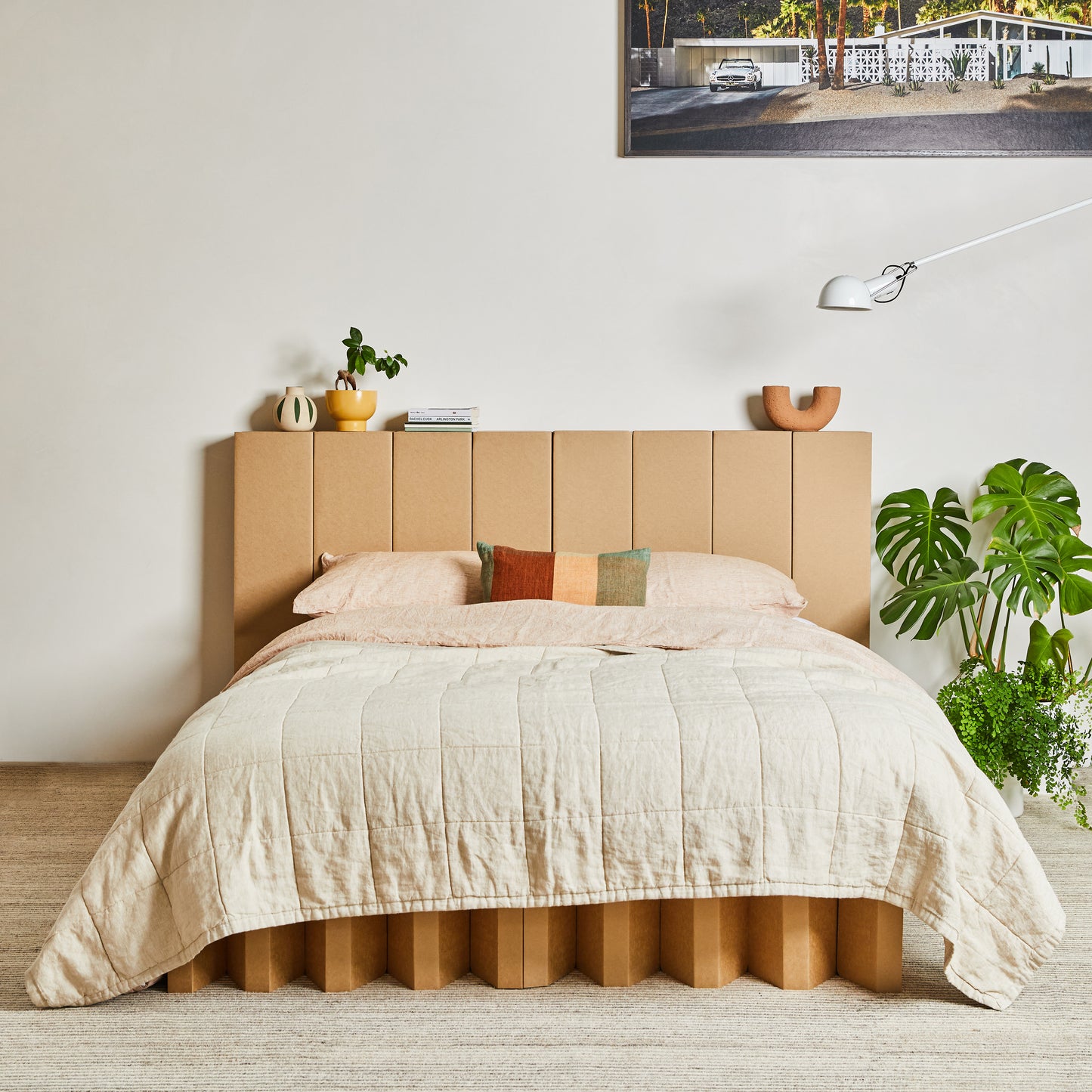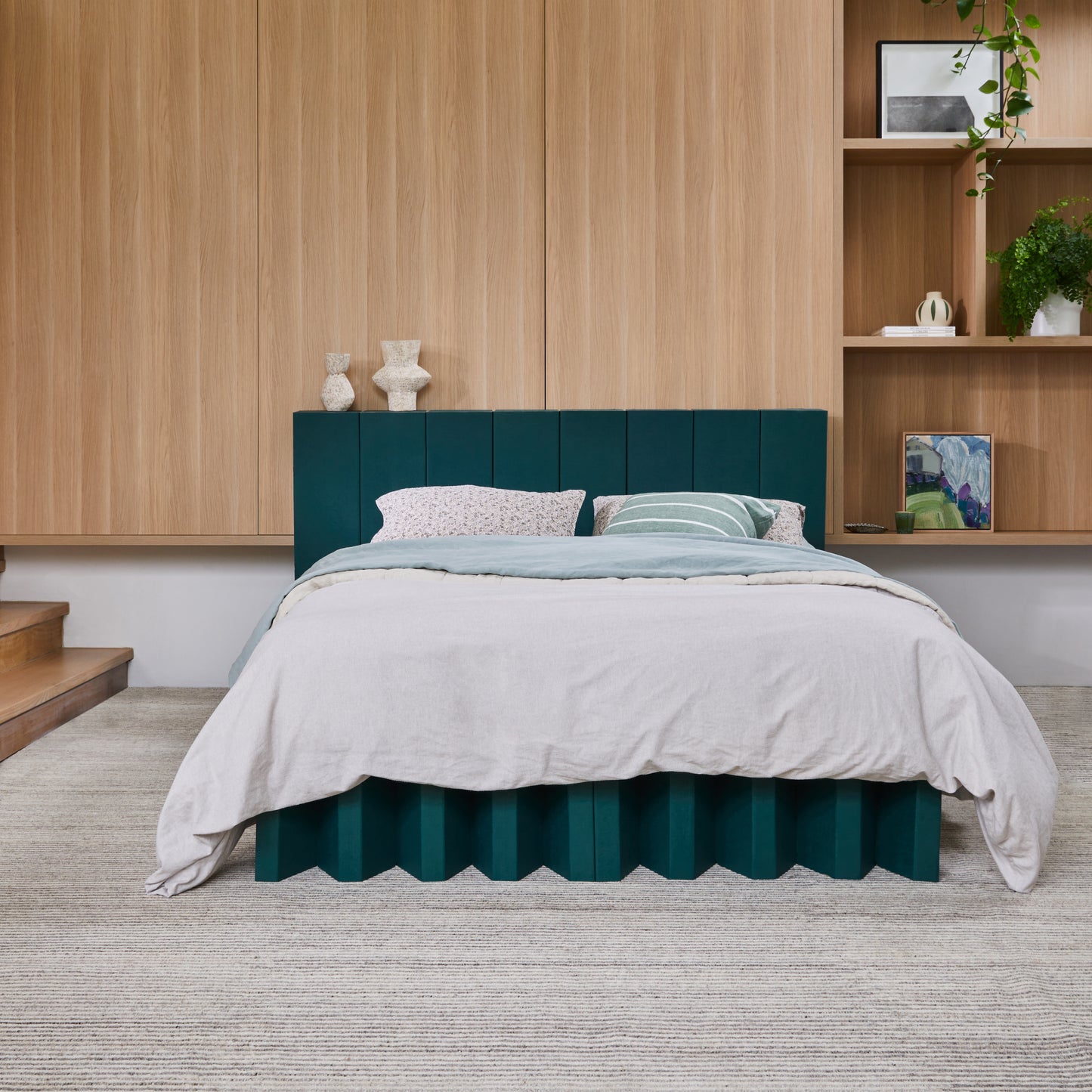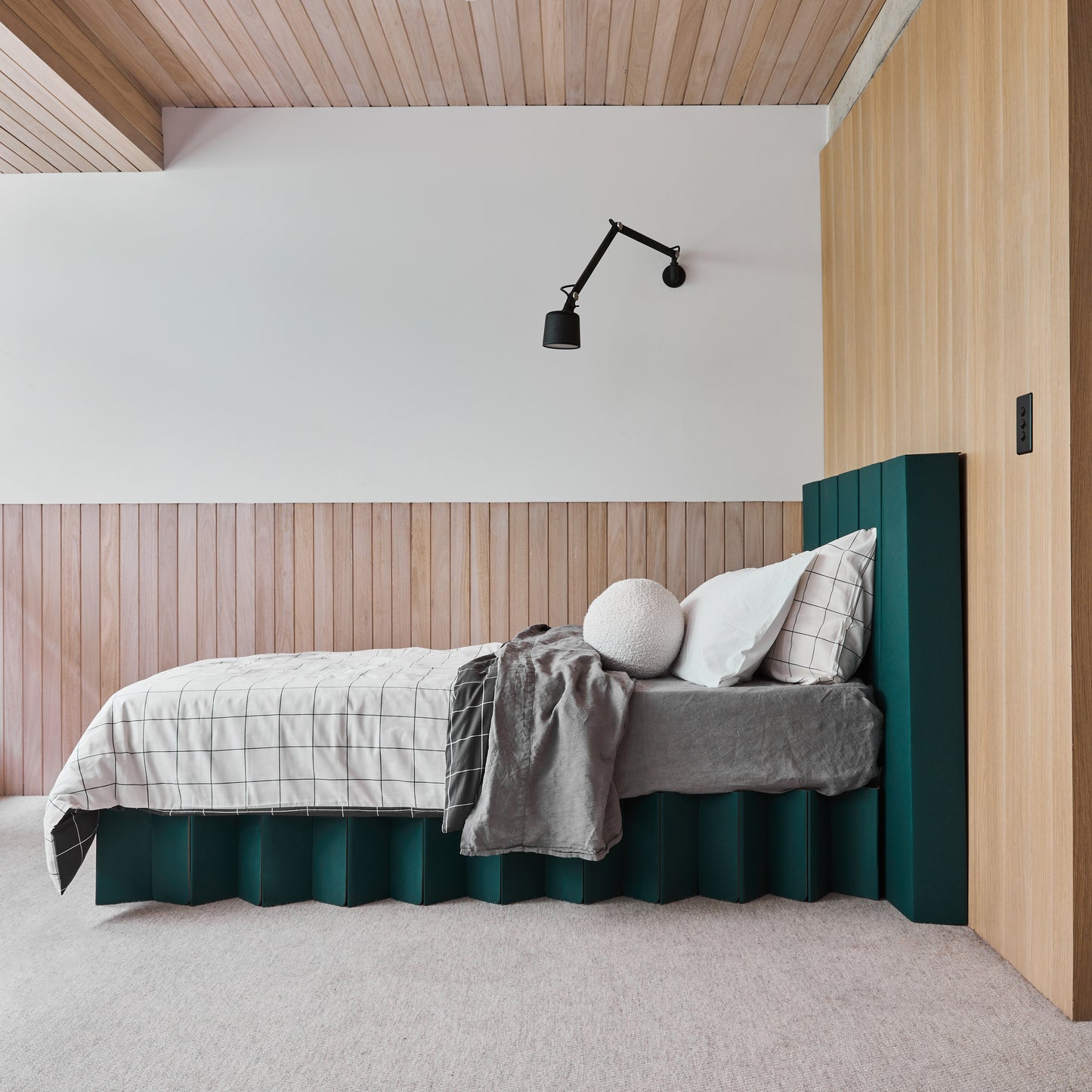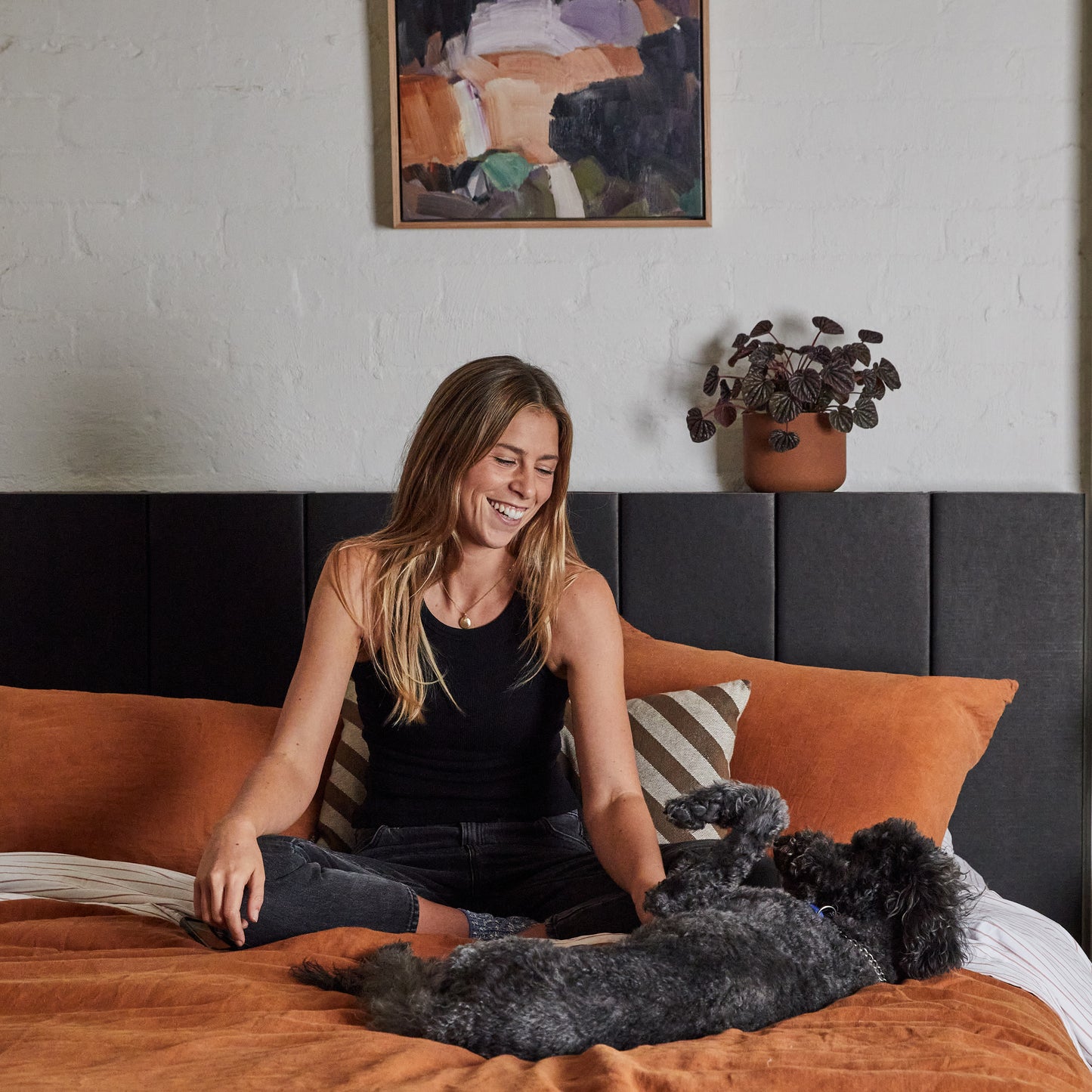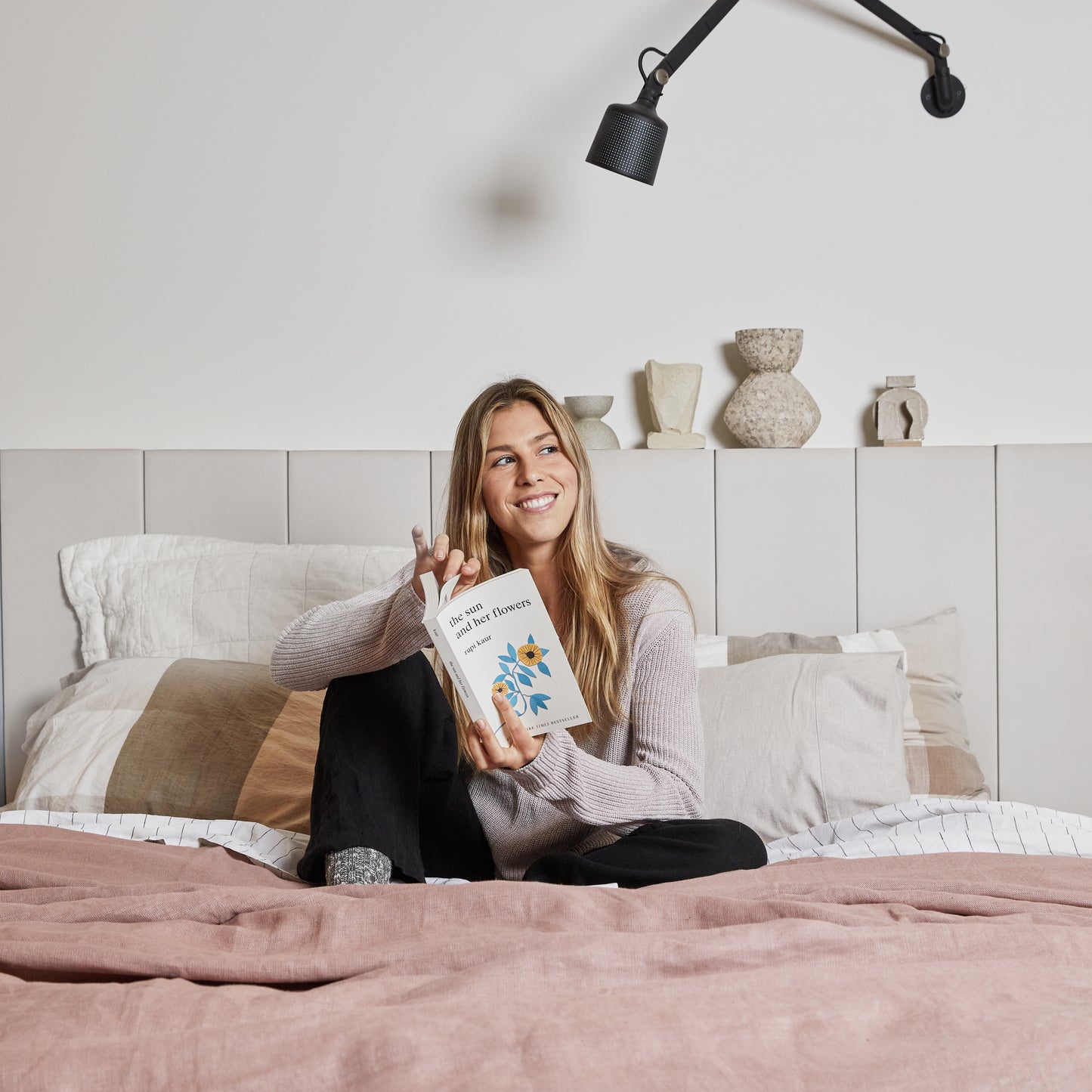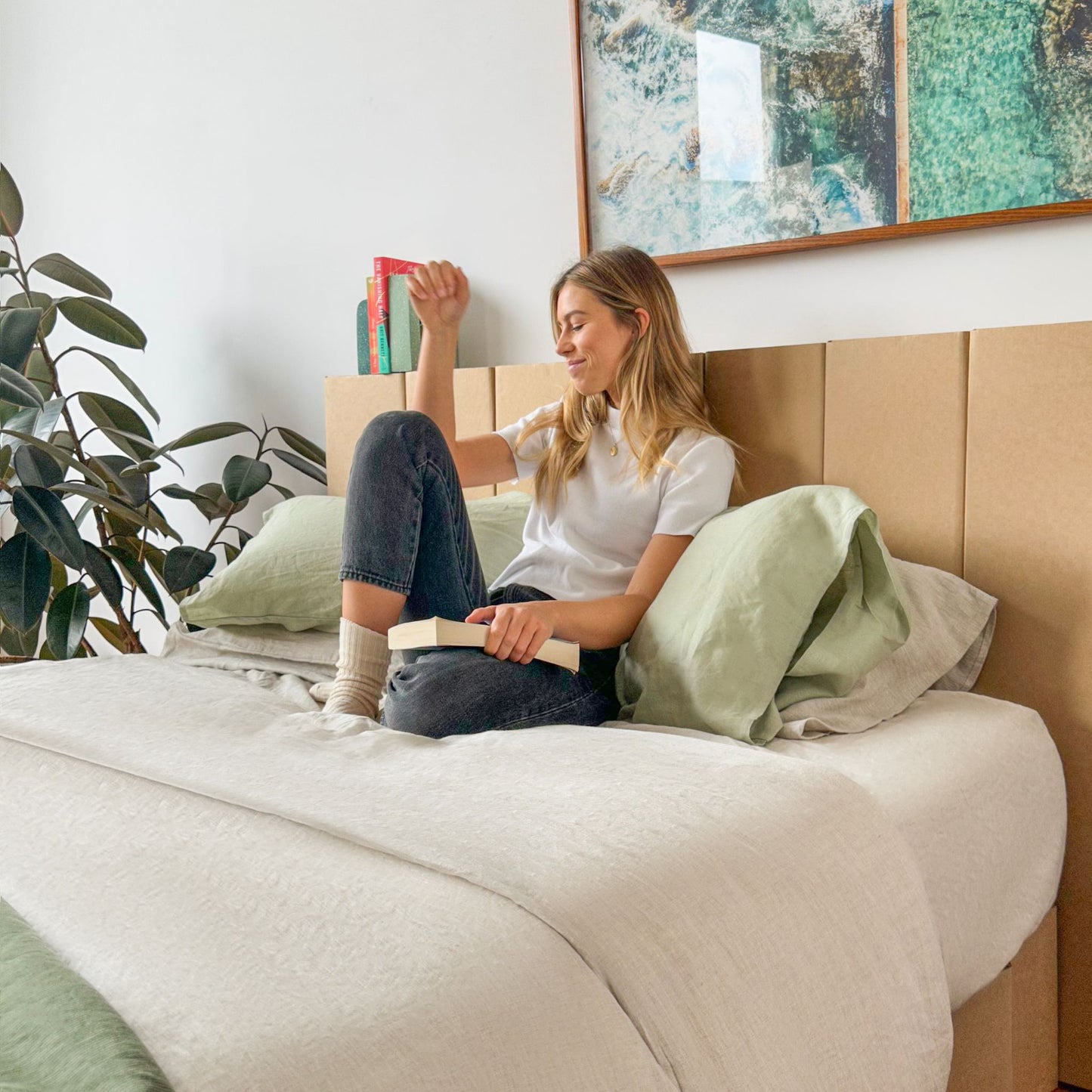 How the Yona bedhead works?
1. Fold open the cardboard

2. Slide the pieces together

3. Connect them side by side and enjoy!
100% Sustainable

Australian Made & Owned

Easy No Tool Setup
Sustainability at our core
Our cardboard bedheads are made up of 70% recycled fibres and are 100% recyclable.
Click below to read more on how we're changing the way Aussies live.
Sustainability Mission
Easy to shape around wall sockets
Very easy to assemble. Even on my own 5 weeks after knee surgery. I found that being cardboard, the headboard was easily modified to account for wall sockets. Very comfortable and stable. We bought this because our old wooden frame had become very rickety. So much more comfortable now.
So easy
Yona headboard is so quirky and easy.
Excellent bedhead!
I was thrilled when I found that Yona have produced a bedhead to go with their beds. Ordered it straight away and put it together fairly easily. It is quite sturdy even with me cutting out a couple of pieces to fit around power points in the wall. My only reason for not giving it 5 stars is that I think the joining flaps need to be larger or sturdier as they can rip a bit when constructing the bedhead. However, I am very happy with the final result.
Pretty nice
I bought both bed head and bed in white, looked real nice when I first got it. Headboard is no longer having it, should of gotten black, kids messed it up 😩 but oh well. The bed is really strong, I even jumped on it to just double check the first time I got it, 😂 people constantly say "how is this standing," I like the design of bed, super easy to set up, headboard not so much. Love the bed Yona 💕 but I need a new head board unfortunately.
Solid purchase
A month in, and no complaints at all. The bed is solid as. I was surprised at the fact there's no sound when you move. It's like your mattress is on the floor. Zero bed noise. And as a bonus, the base holds sheets tight so none are coming untucked that you don't want untucked.
And the headboard is good too. Handy that I needed to cut a slot out for an unused outlet behind the bed so the headboard sits flush with the wall.
Satisfying to put together
It may just be me, but I loved putting this headboard together 😄 It's really satisfying fitting the pieces together and building the whole thing without any tools at all. Such a cool product!
Deceptively simple
I purchased on a whim and don't regret it. The green colour is really lovely and calming, the delivery time exceptional and after watching the video, and with the help of a friend, it all came together really easily. It's stable and aesthetic, and I sleep like a baby!
Perfect
Super comfortable, stylish, and makes no noise. My partner was very sceptical to begin with, but after using it for a month we love it
Frequently Asked Questions
Is it strong enough to support me, my mattress (and my partner and/or pet)?

It sure is! Yona bedheads are made with an innovative, patent-pending design and some of Australia's highest grade (and most sustainable) cardboard.

We're very confident with our product, and we will stand by it no matter what. That's why we offer a 5 year warranty. Even if something does go wrong, we commit to making sure you have an outstanding experience, and will send you a replacement part, and even an entire replacement bedhead if necessary, on the house.
And what if I want to really test the bedhead with … ahem… some rougher activities...?

You do you! And you can have faith that the Yona bedhead is up for any challenge. We have tested our bedhead with every situation imaginable – and we mean every situation. Trust us - whatever you throw at the Yona bedhead, it can take it!

We're confident that the Yona bedhead can stand up to anything, so much so that if you do manage to do any damage to the bed with anything that can be loosely considered any sort of 'bed time activity', we will cover it with our 5 year warranty, all at our cost. We've got you covered.
Can I pack away & put out my Yona bedhead on a frequent basis, e.g. to use with a spare bed?

100%! While most customers use their Yona bedhead permanently, it can also be used as a spare.

Our bedheads are designed to be packed away very quickly when you don't need them, and set back up again when you do.

Additionally, due to its minimalist design, it takes up very little room when packed away.